Welcome to the Peoria River City USBC
Our merged organization is made up of women, men, youth bowlers and is located in Peoria, IL.
Established in 2017
Get Involved
ALL MEMBERS MEETING
The Peoria River City USBC is announcing a few changes to both our local tournaments and the Illinois State USBC Open. Please read through carefully and contact us directly with any questions.
The goal of the PRC is to offer local, competitive, cost-friendly championships for all ages and genders, which is why our 2022/23 tournaments kept the $25/per event & bowler entry fee from many previous seasons The PRC does collect expenses as part of this entry fee, but ALL unused expenses are returned to the bowlers as part of the tournament prize fund. 
Part of the PRC's responsibility is to also support our local houses, so we rotate our tournaments as part of our schedule to ensure equity and for all our bowlers to have exposure to every house. In an effort to further our support to the local houses, we are increasing our lineage in every adult PRC tournament to a consistent $10 per three games.
 For the 2023/24 season, we are raising our adult tournament entry fee from $25/per bowler & event to $30/per bowler & event – a $5 increase with a majority of this increase going towards the prize fund. The Youth Committee will announce changes to their entry fee structure in a separate post. The newly adopted Single Showdown will move from $50/entry to $60/entry and will include an additional game.
Our expense breakdown is as follows: $10/lineage, $18/prize fund and $2/expenses. We have a set expense of $0.50/marketing and $0.50/software. If the $1/leftover expense is not used, it will be added to the prize fund of the same tournament the following season. Some of our tournaments award entry fees into the state tournaments that coincide with that local tournament, and we do not know what that expense is until after the current prize fund is awarded.
The following are changes from the ILUSBC and the Peoria River City USBC has no control over:
The Illinois State USBC is moving from two locations to one, extending the tournament by only one weekend and raising their entry fee from $25/per event & person to $35/per event & person, with the full additional $10 increase going only to expenses. When asked, the ILUSBC said it was due to inflation and an increase in lineage for the houses. However, when asked, it is only a $0.30/game increase ($0.90 per three games). The ILUSBC does not return unused expenses to the prize fund like the PRC and many outside tournaments our bowlers enjoy. The cost breakdown for the ILUSBC Open & ILUSBC Women's Championship moving forward is: $10/prize and $25/expenses (lineage is included in their expenses). This is in line with the National USBC Open.
The PRC operates with as much transparency as possible, so we wanted our members to be aware of these changes both locally and at the state level. The PRC Board welcomes comments and suggestions every year at our Annual All Members Meeting, which recently moved to the spring instead of the summer. We love hearing from YOU, our members, and have used your feedback to make these changes.
Please contact any board member, message us directly on Facebook, or reach out to us here.
Get results from our most recent tournaments, get information on upcoming tournaments and any other news from your Peoria River City Board.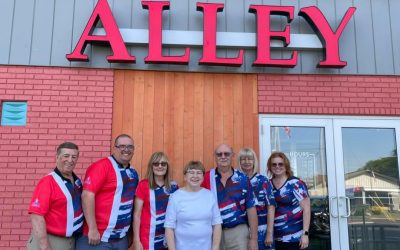 Our final inductee to the Peoria River City USBC Hall of Fame Class of 2023 is near and dear to our hearts… Anita Oberle - Meritorious Service Anita has been a lifetime bowler and served the Peoria bowling community for the last FORTY-TWO years! She looks fantastic at...
To be unified/structured /Fun organization of choice focused on providing a service(s) to our local area bowlers. The growth of participation in the sport in the Peoria Market and utilize inclusiveness of all individuals who are involved with the sport of bowling in and around our market. We invite anyone or association to join and provide professional, courtesy and recognition while maintaining the integrity, teamwork and fun.